Spending their days in muddy fields armed with their metal detectors and packed lunches, Andy and Lance – aka actors Mackenzie Crook and Toby Jones – have brought the simple pleasure of searching for treasure to the masses, thanks to their hit comedy show Detectorists.
Demand for metal detectors has risen in recent years – with experts citing the series and pandemic lockdowns as possible reasons for the surge in popularity.
Under the current rules, newly discovered artefacts can only be legally classified as treasure if they are more than 300 years old and made of precious metal, or part of a collection of valuable objects or artefacts. But now, the legal definition of what constitutes as treasure is changing.
The government plans to amend the definition set out in the Treasure Act to cover more rare and precious archaeological finds, with the plans due to be laid before parliament next week. They are subject to debate, but if approved, the change would come into effect four months later.
It comes after a number of recent discoveries fell outside the definition of treasure, including "spectacular" Roman finds such as the Ryedale Hoard, now at York Museum, and the Birrus Britannicus figurine on display at Chelmsford Museum.
"While these artefacts were, thankfully, acquired by museums, this new definition will make it easier for them to do so in the future," a spokesperson for the Department of Culture, Media and Sport (DCMS) told Sky News.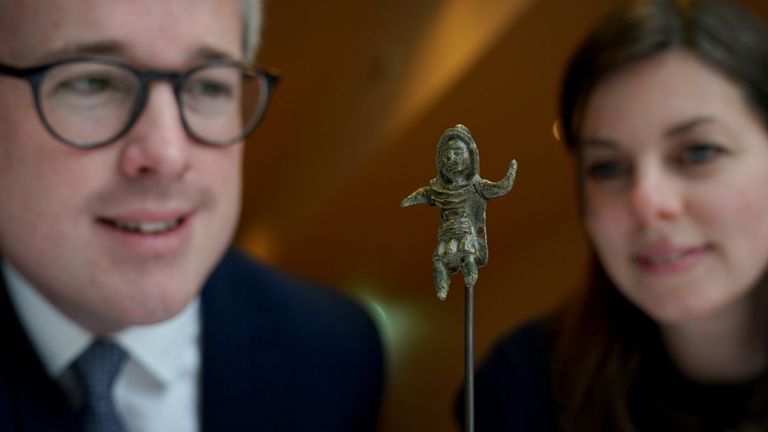 But other finds have been lost to the public – the Roman Crosby Garrett Helmet, for example, which was sold at auction for £2.3m after being discovered by a metal detectorist in 2010. A private buyer outbid several museums to acquire the artefact.
The definition will mean that future discoveries of objects made of non-precious metals, such as the "exceptionally rare" Bronze Age Rudham dirk, a ceremonial dagger which has been on display at Norwich Museum Castle since 2104, after being dug up from a farmer's field in Norfolk, could now be classed as treasure.
Read more:
Treasure hunt lasting 10 years finally ends
New wave of 'mudlarkers' digging up Britain's treasures
But will all detectorists be happy at the news? Under the act, treasure is owned by the crown and a person who finds an object they believe to be treasure must notify the relevant authorities within 14 days.
Maurice Rogers, the former secretary of Colchester Metal Detecting Club, says he fears the move could drive metal detecting "underground" and result in people hoarding their interesting finds privately.
Potential treasure discoveries are assessed by a coroner and go through a formal process before they are classified and then acquired by a museum to go on display to the public.
There were 1,071 reported treasure finds in total across England, Wales, and Northern Ireland in 2020, the latest year for which confirmed figures are available; the Treasure Act does not apply to Scotland The provisional figure for reported treasure finds in 2021 is 1,079 – making it the eighth year in a row when reported finds exceeded 1,000.
Following the change to the definition of treasure, there will no doubt be even more.
"At the moment, the definition says that an object has to be precious metal, and it has to be over 300 years old," says Stephen Parkinson, Lord Parkinson of Whitley Bay and the minister for arts and heritage. "We want to bring that down to 200 years old. So that it can be made of any metal, but also have a new test for significance.
"So if something has importance to local, regional or national history, or a connection with a particular figure or event from our past, then it can be shared and saved and inspire people."
The new criteria will apply to the most exceptional finds that are more than 200 years old, regardless of the type of metal they are made from, as they provide an important insight into the country's heritage. This includes rare objects, those which provide a special insight into a particular person or event, or those which can shed new light on significant regional histories, the DCMS says.
For most detectorists, actual treasure discoveries are rare – just ask Andy and Lance. But there's always a chance of finding the holy grail.