US President Joe Biden has visited the Ukrainian capital Kyiv on his first trip to the country since Russia's invasion on 24 February last year.
The president said Washington would provide Kyiv with a new military aid package worth $500m which would be announced on Tuesday, as he was pictured walking in the city with Volodymyr Zelenskyy.
The White House said Mr Biden would announce more sanctions on Russia and military support for Ukraine including artillery ammunition, anti-armour systems and air surveillance radars.
Putin was 'dead wrong' – Ukraine latest
Mr Biden said Russian President Vladimir Putin thought Ukraine was "weak and the West was divided" and "thought he could outlast us" but added – "he was dead wrong".
Ukraine's president says the pair discussed long-range weapons and described negotiations as "very fruitful".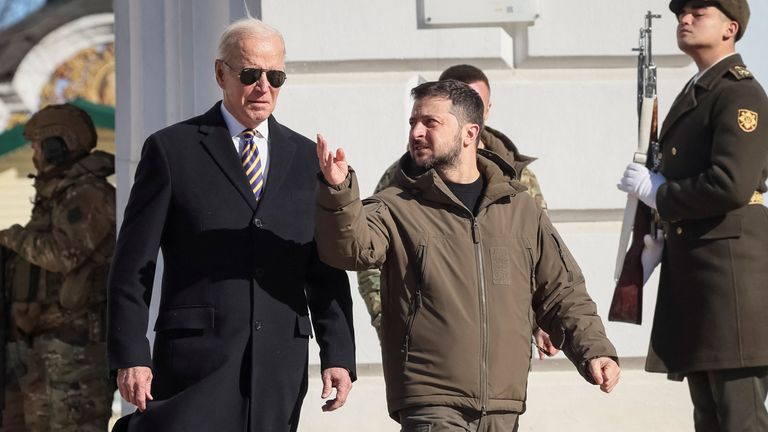 'Negotiations were very fruitful'
In a statement from the White House, the president said his visit to Kyiv would "reaffirm our unwavering and unflagging commitment to Ukraine's democracy, sovereignty, and territorial integrity".
He added that there will be more sanctions on Russia "against elites and companies that are trying to evade or backfill Russia's war machine".
Addressing reporters in Kyiv, Ukrainian President Zelenskyy described Mr Biden's visit as an "extremely important sign of support for all Ukrainians".
"Negotiations today were very fruitful, very important and very crucial," he said, adding that the results will "definitely" have an impact on the battlefield.
Biden condemns 'barbaric' invasion

The White House said it did notify the Kremlin of the president's visit "some hours" before his departure.
"We did so some hours before his departure for deconfliction purposes. Because of the sensitive nature of those communications I won't get into how they responded or what the precise nature of our message was," US National Security Adviser Jake Sullivan said.
Trip marks 'historic moment'
Mr Biden said the package would also provide more ammunition for High Mobility Artillery Rocket Systems in Ukraine's possession.
Speaking from Kyiv, Sky's security and defence editor Deborah Haynes said the visit is a "historic moment" and came with "extraordinary security lockdowns" with the whole centre of the capital locked down this morning.
The unannounced trip comes after the White House said last week that there were no plans for the president to cross into Ukraine during his visit to Poland this week, to mark the anniversary of Russia's invasion.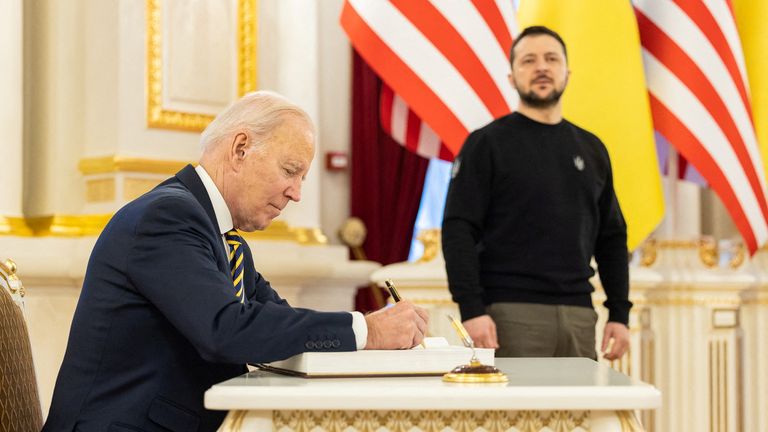 His visit came a day before Mr Putin was due to make a major address, when he is expected to set out Russia's aims for the second year of the invasion he launched last year.
In December, Mr Zelenskyy visited President Biden at the White House on his first trip out of Ukraine since the war began.
The symbolism of this trip is important but so too is the substance
History was made in Kyiv today with the first visit to Ukraine by Joe Biden almost one year on from a Russian invasion that was designed to topple the government.
In the ultimate snub to Vladimir Putin, the American leader met with his Ukrainian counterpart at the presidential palace before paying tribute to the many tens of thousands of Ukrainian military lives lost fighting to expel Russian invaders.
"Good morning, Mr President" was the greeting in English given by Mr Zelenskyy as Mr Biden emerged from a motorcade of vehicles that brought him to the capital in secrecy and under an unprecedented security lockdown.
A memorial wall to the soldiers who have died fighting Russia's war, which began in 2014 with the annexation of Crimea but was significantly amplified last year with the all-out invasion, frames one side of the square outside St Michael's monastery.
The US president visited the memorial, where a US and a Ukrainian wreath were laid next to each other.
The symbolism of this trip is important but so too is the substance.
Mr Biden wanted to make clear in his words and pledges, including new weapons and ammunition for Ukraine, that the United States would support Kyiv "for as long as it takes".
The US and its allies know that the Kremlin believes time is on Russia's side, suspecting the West will become distracted by other priorities or will fail to make the military investments necessary to keep supplying the Ukrainian military with the hardware it needs to fight.
By visiting Ukraine himself, with the risk that entails, the American president will be hoping he sends a clear message to Mr Putin that US support is here to stay.
Mr Biden's trip comes as Ukrainian and Russian forces continue to fight for control of the eastern city of Bakhmut in the Donetsk region.
While Mr Zelenskyy has said that Ukraine will maintain its months-long defence of the city, he warned "not at any price".
He told Italian daily Corriere Della Sera: "It is important for us to defend it, but not at any price and not for everyone to die."
Russian forces have besieged Bakhmut since July and, led by the Russian Wagner Group mercenaries, they have made small gains in nearby villages.
Read more:
HIMAR system: The new US weapon being used by Ukraine
Rishi Sunak to urge West to 'double down' on military aid
While some say the city has more of a symbolic value than a strategic one – it is the gateway to other cities further west in the Donetsk region.