After an industry-wide shutdown lasting 118 days, it looks like it is finally time to call "action!" in Hollywood once again.
US actors' union SAG-AFTRA has now agreed a "tentative deal" with Hollywood studio bosses, with picket locations now officially closed.
The announcement comes after the Writers Guild of America (WGA) agreed a deal in September following the separate 148-day writers strike.
There are a couple of steps that need to happen before the deal becomes official, with the national SAG-AFTRA board set to review the agreement before details are released and the guild's full membership takes a vote.
However, when striking screenwriters reached their deal in September, writing work was allowed to resume before full ratification of the contract was complete.
As Hollywood looks set to get back to work, here's what to expect.
Film and TV production
Production on films and TV shows is expected to start momentarily following the end of the strike. But while the deal means work can now resume, don't expect a flurry of shows and films to come out straight away – after a delay of several months it will take time for the industry to get back to normal, and viewers may continue to feel the effects for months, if not years.
Much-anticipated films including Deadpool 3, starring Ryan Reynolds and Hugh Jackman, and Ridley Scott's Gladiator sequel will likely be among the first films to resume production.
Work on season five of hit '80s sci-fi series Stranger Things was also paused, and the cast of Wicked, which includes Ariana Grande and Jonathan Bailey, were days away from completing the film before the announcement.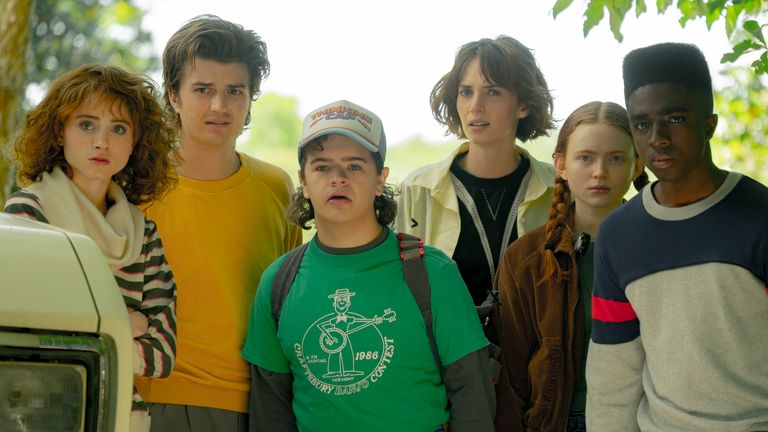 Production on upcoming seasons of other hit shows, including The Handmaid's Tale and The Last Of Us, was also put on hold.
The resolution of the writers' strike allowed script work to resume on shows such as Abbott Elementary, The White Lotus and Yellowjackets – and this head start might help those productions get back on the air sooner once their stars are cleared to work.
Television moves faster than film. Once pre-production ends on movies there is still a lengthy editing and promotional process.
In recent weeks before the announcement of the resolution, more shows and films announced delays – Kevin Costner's final episodes of Yellowstone won't air until November 2024, and the next Mission: Impossible film has also been postponed.
Red carpet glam
It wasn't just work on production itself that was put on hold – members of SAG-AFTRA, which represents around 160,000 workers in the industry, were also barred from publicising any of their upcoming projects.
This means that for months, film and TV premieres have either been called off, or gone ahead without their stars, and you will have seen very few actors giving interviews about their acting work. Striking actors were even warned not to dress up as popular film or TV characters at Halloween.
The much-anticipated premiere of Christopher Nolan's epic Oppenheimer was scheduled on 14 July, the day the actors strike was announced – forcing stars including Cillian Murphy, Emily Blunt and Matt Damon to walk off the red carpet.
Read more:
UK film and TV workers forced to put homes up for sale
Brad Pitt to Jane Fonda – the stars supporting strikes
Sky News speaks to Oppenheimer stars shortly before strike announcement

Now, promotions can go ahead as planned – so we're expecting to see a flurry of red carpet announcements as studios rush to show off their stars once again.
The strike also affected international film festivals such as Venice and Toronto – and during the London Film Festival in October, director Martin Scorsese said he was "disappointed" the stars of his latest film, Killers Of The Flower Moon, including Leonardo DiCaprio and Robert De Niro, were unable to attend.
The end of the strike means festivals such as Sundance, Berlin and Cannes can go ahead as planned at the beginning of 2024.
Some projects were given exemptions, such as Michael Mann's upcoming racing drama Ferrari, for which stars Adam Driver and Patrick Dempsey were able to attend the Venice Film Festival – and also allowed Dempsey to do an interview with People magazine when it named him its Sexiest Man Alive.
Does this affect the Oscars or other awards shows?
The Emmy Awards, which usually take place in September, were called off due to the strikes. A new date was set for 15 January, and it looks like the ceremony will now be able to go ahead on this date.
As most of the awards ceremonies take place between January and April, events including the big one – the Oscars – can now take place as planned without any changes.
What does the deal mean?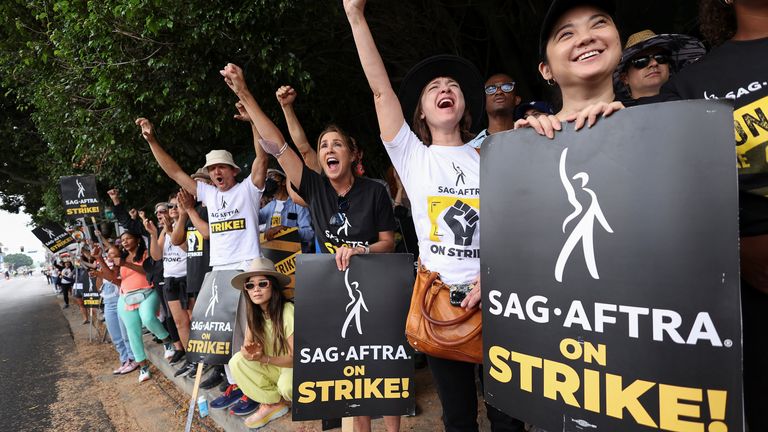 SAG-AFTRA says the deal is worth more than a billion dollars and includes compensation increases, consent protections for use of artificial intelligence and actors' likenesses, and a "streaming participation bonus".
The Association of Motion Picture and Television Producers says the "tentative agreement represents a new paradigm", and that studios are offering actors "the biggest contract-on-contract gains in the history of the union, including the largest increase in minimum wages in the last 40 years".
Duncan Crabtree-Ireland, SAG-AFTRA's executive director and chief negotiator, says the gains have made the strike worthwhile.
What's next?
Well… it might not all be over just yet. In fact, there could be another actors' strike – this time by video game performers. Negotiations for this contract are ongoing, but a shutdown has been authorised.
Actors who work on video games range from voice performers to stunt performers, and like SAG-AFTRA members have expressed concerns about the use of AI in their industry.
Studios will also be negotiating with set workers and their guild, the International Alliance of Theatrical Stage Employees, in 2024. IATSE members work on everything from set-building to lighting and creating effects, and so are crucial to film and television production. They have been severely impacted by the filming shutdown already, with some members joining the picket lines in the writers and actors strikes.
And other sectors of the industry have moved to unionise as the actors' and writers' strikes have played out. Some reality television workers are calling for a union, while visual effects artists who work on Marvel films voted to join IATSE.
So while Hollywood loves a happy ending, there could be a sequel to come.